B+W Shorthairs

When it comes to catz, I specialize in breeding Black and white shorthairs. Evil, terrorizing monsters? Not quite! B+Ws are very nice, smart and beautiful catz! They make great show catz with their clean lines, and even though they only come in black/white in the AC, there have been bred B+Ws of many, many colours! I used to have a pretty much complete list over the colours that I and others had found, but I've lost it. I have however tried to create myself a new one, which you can see below! If you have a colour not listed below, PLEASE email me with a pic of the catz! Remember, it must a non-hexed, non-painted B+W.
Eyelid colour


Fur and paws colour


Eye colour


White markings can ALWAYS be found on:
muzzle (otherwise it has hexed background)
White markings MAY be found on:
Paws, face streak, chest, tail

My show B+Ws
These are my show B+Ws (I have more on the My Catz page), like the title says! Hold the mouse over the pic to find out more about that catz! All catz here are purebred B+Ws! These catz are available for purebred (hexed okay) B+Ws that have at least Rc status. Remember, these are show catz :) Just email me with your catz (I won't send my kitties, sorry). Click here to email me!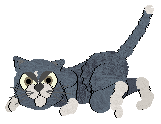 Bootz is also registered with the PKC =) Here are his awards so far:





Essa above is also registered in the PKC... Her awards so far: